June 15, 2023
Posted by:

admin

Category:

News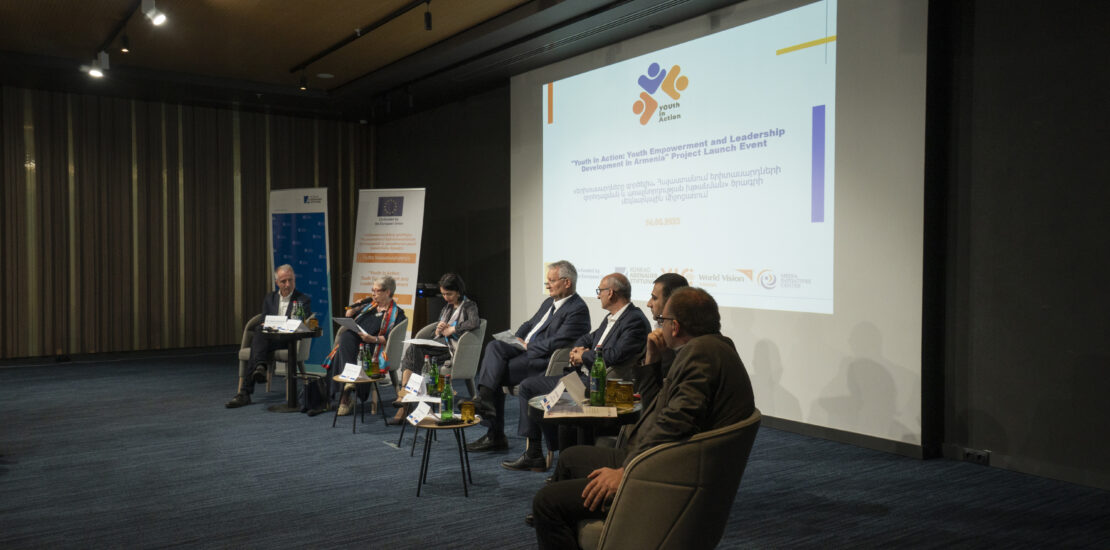 On 14 June, "Youth in Action: Youth Empowerment and Leadership Development in Armenia" project was launched by the Armenian branch of the Konrad Adenauer Foundation (KAS) in partnership with World Vision Armenia (WVA), Media Initiatives Center (MIC), and Youth Initiative Centre (YIC). This project has been co-founded by the European Union.
We were honored to have Minister of Education, Science, Culture, and Sports, Zhanna Andreasyan, EU Delegation Head, Ambassador Andrea Wiktorin, Ambassador of Germany to Armenia, H.E. Viktor Richter join us at the event, along with the esteemed members of the consortium and representatives from international organizations, youth groups, and Armenian civil society, more than 130 attendees. It was a truly remarkable gathering.
"The project that we are launching today embodies the belief of the European Union in the power of youth to transform communities and shape the future. Young people in Armenia possess immense energy, creativity, and passion, which makes them catalysts for positive social change and advocates for a more inclusive, equitable, and sustainable future. The European Union remains steadfast in its commitment to supporting youth projects in Armenia,'' Ambassador Andrea Wiktorin.

"Protection of one's rights and interests and participation in community life are crucial prerequisites for the development of the state. We have achieved success in various domains by safeguarding our rights and interests. Our youth exhibit remarkable energy, proactiveness, and creative ideas. However, to ensure that no young individual feels alone with their thoughts and ideas, these programs, concepts, and approaches require institutional support. It is essential to create an enabling environment and provide the necessary conditions for young people to grow and progress, thereby contributing to the development of our country and state. We are ready to support the implementation of the project in every possible way," Zhanna Andreasyan.
Over the next three years, the project aims to strengthen the capacities and cooperation among Armenian civil society to educate and empower youth. Through the project, youth CSOs will acquire vital skills for effective organization, management, and resource utilization.
Additionally, young professionals will have the opportunity to receive fellowships, foster their ability to work in diverse environments, address community issues, and design and implement local initiatives.