October 31, 2014
Posted by:

admin

Category:

News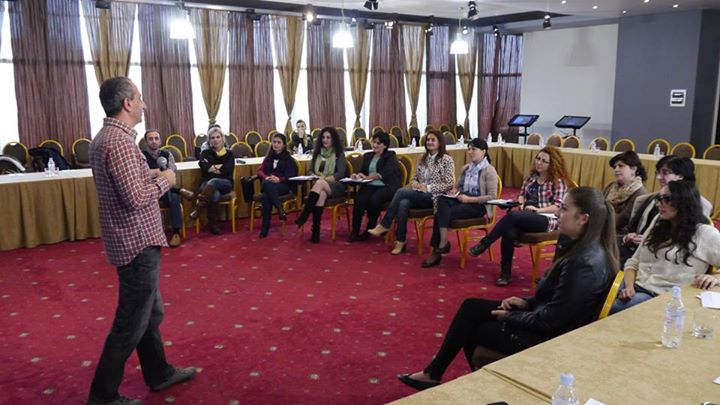 The Media Initiatives Center has initiated the concept of media education development in Armenia with a view of clarifying the steps and further actions directed towards the increase of the level of media literacy jointly with the state authorities, schools, higher education institutions, training centers, media and other interested stakeholders.
The workshop entitled 'Perspectives of Media Literacy in Armenia' held in Yerevan on October 27-28 was specifically aimed to initiate that discussion and summarize the already taken steps.
"Since 2012 we actively promote the concept of media literacy, particularly in the field of public education. We hold training courses for teachers, provide them the manual and computer game created by us to them, and hold pilot training at schools and higher education institutions. Now we plan to enlarge the target sphere, engaging public organizations, the Mass Media, and libraries," the Project Officer Lusine Grigorian says.
The workshop united in one place those who initiated the project, teachers who had participated in media literacy training and held pilot training sessions at schools, representatives of the higher education institutions, the interested NGOs, and Mass Media representatives.
"Literacy of the 21-st century is the Media Literacy because now it is the media that shapes the person, one's outlook, and perceptions. And it largely depends upon the quality of media education, what kind of man there will be in the society," Ruzan Baghdasaryan, Director of "Manana" Educational Center says.
One of the guests of the workshop, Oksana Volosheniuk, the Director of the Ukrainian Press Academy, shared their experience in media literacy promotion. According to her, a critical mass of teachers and librarians has been formed in the Ukraine that is interested in this topic. They attach so much significance to media literacy teaching that sometimes engage even on a voluntary basis. As a result, the media literacy course has already been piloted in 300 schools.
The draft concept discussed during the workshop will be further developed during the upcoming months in small working groups, which would prepare practical recommendations and steps in order to promote media literacy in Armenia and educated more literate media consumers.
[foogallery id="4430″]