December 15, 2022
Posted by:

admin

Category:

Opportunities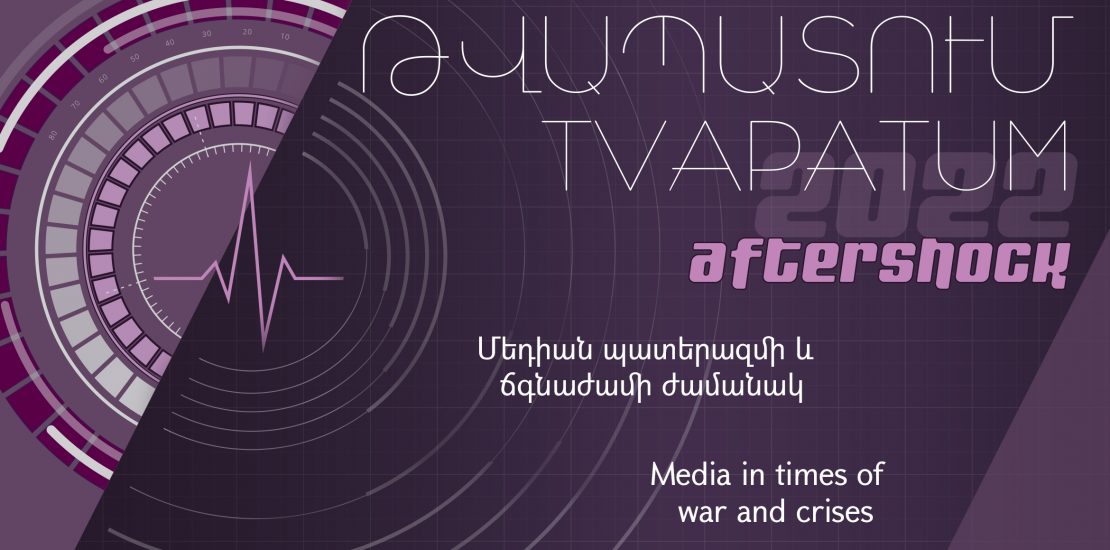 Media Initiatives Center invites you to participate in the "Tvapatum. Aftershock 2022" media conference to discuss the work of media in war and crisis. The conference will take place on December 20-21, in the Armenia Hall of the Armenian General Benevolent Union (AGBU), address: (Melik-Adamyan 2/2, 2nd floor).
For registration please follow the link․
Registered participants will receive complete information about the conference.
Constantly responding to the events occuring in the country and the world, we regularly address topics like the coverage of conflicts that remains tragically relevant. "Tvapatum. Aftershock 2022" is dedicated to the challenges of coverage of ongoing wars, conflicts, and crises in Armenia, Ukraine, and the region.
Our colleagues from Moldova, Belarus, Lithuania, Ukraine, Georgia, and Armenia will discuss the challenges of working in hotspots, journalists' safety, professional ethics, fact-checking, working with sources, approaches, tools, and other aspects.
The conference is for journalists, editors, managers, media experts, and students.
The working languages are Armenian and English; interpretation will be available.
The #Tvapatumaftershock22 hashtag will be used for sharing and finding information and news about the "Tvapatum. Aftershock 2022" media conference.
---
The "Tvapatum․Aftershock 2020" media conference is organized by the Media Initiatives Center with the support of HEKS/EPER and Brot für die Welt in the framework of the "Strengthening Journalists' Knowledge and Skills in Conflict Reporting" Project, and Konrad Adenauer Foundation in the framework of "The War in Ukraine: The Informational Echo in Armenia" project.