July 14, 2014
Posted by:

admin

Category:

News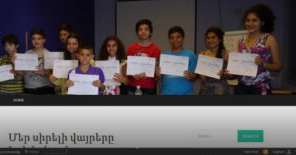 Two years ago 14-year-old Atur Guyumchyan came to Armenia with his family for spending summer holidays in the homeland. "Me and my father tried not to miss any moment to enjoy Yerevan. The days passed. One morning we went to Khor Virap. On our way back my father received a call, which changed our life. My uncle was calling to tell that the terrorists entered Halep. He insisted on our not returning."
Atur tells about this sharp change of his family's life in his first post in "Hushatetrak" (Memory Book) blog. Other authors of the blog are also Syrian teenagers, who live in Armenia. Together with Atur, they participated in the media school of Media Initiatives Center during July 7-11. The blog was created during the media school. Then the first posts appeared. The blog highlights memories of peaceful and wartime in Syria and episodes of the life in Armenia.
"Interviewing my father was not an easy task," Atur says. "Definitely one needs years to master journalism. I learned a lot during this week, but realized that there is even more to learn."
Organized with support of the European Endowment for Democracy, MIC's media school trained the Syrian kids in simple rules and skills of storytelling, in analyzing and critically approaching media content.
"I was always interested in media. I always dreamed of participating in a journalism training and learning more about this profession. Thus, I reached my goal," says Marni Incheyan. Marni is 16. Soon she will finish school and possibly study journalism.
Not all of the participants of the media school see themselves as journalists, but everyone was interested in how the media work, how a television program is produced, from where the journalists get their stories.
"We don't tell you to become journalists by all means", MIC journalist Armen Sargsyan was telling the kids before the farewell. "We tell you to be attentive to what happens around you so that you are able to hear and tell well. For me there is no better thing in life. That's why I became a journalist."