March 31, 2003
Posted by:

admin

Category:

News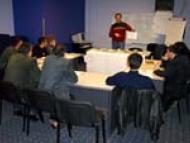 In March Internews organized a 6-day training course on marketing. The course, conducted by Alexei Knapnugel from Krasnoyarsk, was the second one in the series of seminars of "Marketing and Sales Management School" that Internews launched last year. This course focused on the issue of sales, and, as training coordinator David Aslanyan stated, "involved the same target group of employees from TV stations and production companies that had attended the previous seminar and will attend the next two." The course is designed to provide professionals with practical knowledge and new methods of sales that could help them to achieve success.
By the end of the first day of the seminar, Alexei Knapnugel mentioned that the students were "over-trained" and were more qualified than he had expected, so he had to adapt the curriculum of the training to the needs and requirements of the participants.
The "Marketing and Sales Management School" aims to increase revenues of independent TV and radio stations and production companies. 2 more seminars will be held throughout 2003 for the same target group. By the end of the sessions, Internews expects to see a well-prepared group of sales agents and commercial managers that will be able to implement new methods and new approaches in their stations, as well as to train the rest of their commercial stuff.