May 30, 2006
Posted by:

admin

Category:

News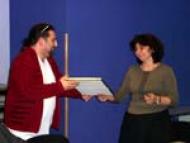 On May 3, ceremony of handing of prizes of The Best Radiojingle competition, announced by the Internews, was held. Six local radiostations participated in the competition, presenting their promotional packages (audio files), including the radiocompany's promos, jingles, program announcements. Promos selected from each package (maximum 3 ones) were posted on the http://media.am/ website, so that its visitors listened and voted for the best jingle.
As a result of online voting, the City FM radiostation won. During the May 3 event, the participant radiostations were handed certificates, and the City FM received a money award. The City FM (previous Hit FM) producer introduced the current ideology, programs and plans of the station. Then the event participants – representatives of radio stations – discussed problems faced by them, specifically, the need for developing own news programs by radio stations, the financial justification for stations and issues of media market in the country.
The event was held within the framework of the Internews' Re-Media project, aimed at developing the information sector of radio through raising the number and quality of production. For this purpose, the Internews promotes radio in the Internet, organizes training courses for the personnel of radiocompanies, promotes production of social programs and raises the interest of students of journalism departments on talk radio. The project is implemented with the assistance of the Open Society Institute Assistance Foundation Armenia.