January 21, 2013
Posted by:

admin

Category:

News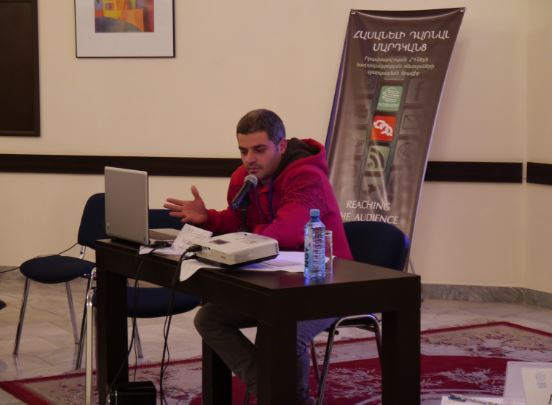 On January 18-19, 2013 the final conference of Reaching the Audience project was held. The conference was entitled Human Rights in New Media.
The discussions focused on the opportunities offered by new media for human rights defenders: how are these opportunities used in Armenia and other countries, what are the benefits and disadvantages for civic movements in online platforms… The opinions were diverse, the problems were many and the cases were instructive.
Representatives of Yerevan and regional NGOs and civic initiatives dealing with human rights protection in various sectors participated in the conference. There were also special guests from abroad.
Daria Alexeeva of the Greenhouse of Social Technologies (Russia) spoke on the ways information technologies are used by close institutions for informing about human rights violations in Russia. Oleg Khomenok, Journalist/Media Consultant from Ukraine, presented the ways of involving people in crowdsourcing platforms in Ukraine. Jessica Dheere of the US based Social Media Exchange organization focused on planning and targeting social campaigns.
The Armenian human rights defenders discussed hot issues covered in new media during the past years:  environmental problems, violence in the army, violations in the construction sector. They spoke on challenges faced by civic activists: big volume of work, lack of resources, like-minded people and volunteers, corrupted judicial system, etc.
During the conference Internews presented the Social Media for Human Rights Protection manual, published within the framework of the project. The manual highlights the Armenian experience of civic activism in the format of expert analysis. By publishing this book and organizing the conference, Internews summed-up the Reaching the Audience project, which was implemented during 2010-2012.
The project aimed to capacity building of human rights NGOs and civic activists. For this purpose 122 people, representing 70 NGOs and 6 civic groups, participated in 15 training courses; 37 representatives of NGOs received consultancy on improving their media strategies; 6 NGOs received small grants for carrying out media campaigns.