May 13, 2014
Posted by:

admin

Category:

News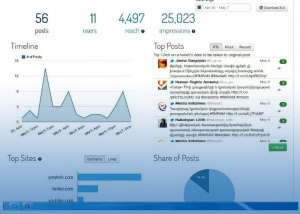 Pop-Up Newsroom is a virtual newsroom, which becomes active when there is a specific event or issue to cover. The journalists of the Pop-Up Newsroom often don't know each other. Interest in the topic and professional innovations unite them in the virtual space.
On May 6 the Media Initiatives Center used this format to bring together in the Internet reports and notes of journalists covering freedom of religion and conscience. A week earlier, on April 30, the group of journalists interested in the topic met with experts to discuss problems on religious minorities, controversial issues and difficulties related to the coverage of such issues. The journalists' reflections following the discussions and the experts' assessments appeared in the May 6 newsfeed of the Pop-Up.
On that day under the hashtag #RMRAM (Religious Minority Reporting-Armenia) almost 50 posts appeared in Twitter generally with links to detailed journalistic reports. By following the continually updated newsfeed, it was possible to identify journalists actively covering the topic in Yerevan and regions, the frequently covered issues in their focus and online resources for journalists interested in the topic.
The Pop-Up Newsroom was organized within the framework of the "Protecting Child Rights of Religious Minority Groups in Armenia: Combating Intolerance Online" project implemented by Council of Europe in Armenia.