July 1, 2013
Posted by:

admin

Category:

News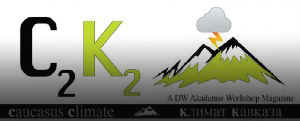 C2K2 was jointly developed by a group of journalists in June 2013 in Yerevan. This is not a chemical substance, but a newsletter targeting Caucasus climate in the context of global warming.
Publishing the newsletter concluded the two-week-long regional training organized jointly with Deutsche Welle Akademie. The training focused on the coverage of issues related to the climate change. Journalists from Armenia, Georgia, Nagorno Karabagh, Abkhazia and Nothern Osia participated in the training.
"Climate change and environmental issues gradually become more vivid in people's lives," says the trainer Kieran Cooke from UK, "Their coverage is an urgent, important and complicated task for journalists and requires special preparedness."
The training aimed at providing a group of journalists covering environmental issues in the Caucasus region with relevant knowledge, skills and resources, and promoting their networking. With DW Akademie support, at least two of them will participate in the annual UN Climate Change Conference to be held in Warsaw in fall 2013.
Armenia is among the vulnerable countries from the perspective of the consequences of the climate change: the country is situated at the depth of the continent, in the mountainous area and has no outlet to the sea. During the training the local guest-speakers were justifying these statements and identifying spheres and spots bearing those consequences today.
However, the journalists cannot be satisfied with what they have heard. Tracing the climate change in Armenia, the participants visited a number of villages in Armavir heavily hail hit in May, as well as in Vayots Dzor, where the average air temperature is forecasted to rise increasingly. The trainees wrote about what they saw and heard in their jointly prepared newsletter and in their media.