March 4, 2007
Posted by:

admin

Category:

News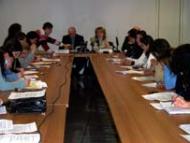 Internews' Legal Service examined cases of violation of journalists' professional activities and the legal practice for the year 2006. The material was summed up in a report, which, on 2 March, was presented to representatives of media entities and interested local and international organizations.
The report covers pressures exerted on journalists, restrictions of their professional activities and other violations and the stance of authorities towards these violations. The examination of cases revealed, that, while carrying out their lawful professional activities, journalists were not protected, neither as journalists, nor as citizens. Those guilty were not punished in some cases and unequally punished in others.
The 2 March event aimed at drawing the public attention at the issue of journalists' rights protection. To solve the problem, Internews initiated amendments to the ROA Criminal Code and the ROA Law on Police. The draft laws are currently included in the NA agenda. Internews' advocacy efforts will be directed at forcing the authorities to improve both the legal framework and law enforcement practice. The activities are carried out with the assistance of the Counterpart Armenia Civic Advocacy Support Program.