September 30, 2015
Posted by:

admin

Category:

News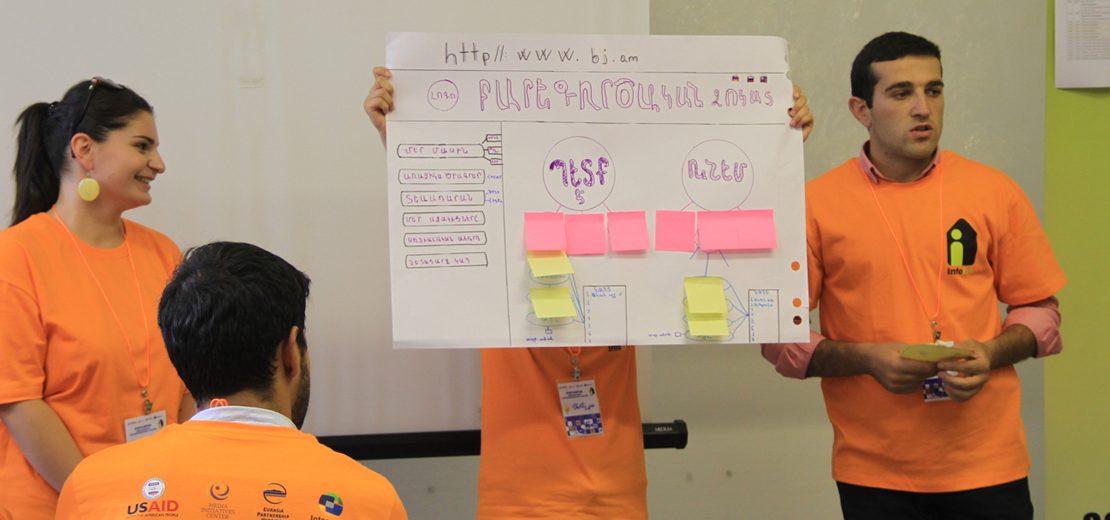 To notice the problem, propose a solution, find supporters, receive money and start the work: "Mardamej" social innovation events organized by Eurasia Partnership Foundation provide such an opportunity to the active youth of Armenia's regions.
During six meetings held in September 2015, young people presented problems they noticed in the sphere of country reforms (social, decentralization, transparency and accountability) and proposed projects to solve those problems through online or offline tools.
Out of about 200 applications submitted to "Mardamej" events held in the Info-Tuns (information houses) of Gyumri, Vanadzor, Armavir, Martuni, Ijevan and Syunik, the Committees selected 24 – 4 ideas from each Infotun.
During one-day events, the authors of 4 projects were discussing their projects with the other participants and the Jury. Then they were forming groups with those who supported their ideas. In the result of teamwork, the elaborated projects were submitted to the Jury, which was deciding on providing financial support to two of those projects.
"The biggest experience achieved in "Mardamej" was presenting the project proposal to the Jury", Katya Babayan from Syunik gathering was telling. "I realized that the proposed project was not as significant as the capacity to persuade the Jury that your idea was better than the others, that your idea is the best."
13 projects out of the 24 projects that passed the initial phase were granted 250 thousand AMD each on average. Projects devoted to the solution of social, cultural, information and other problems have been already launched.
By getting consultancy from the IT specialists during the "Mardamej," a lot of participants had tried to combine both on-line and off-line tools in their projects.
The on-line platforms created within the framework of several projects which won, are aimed at raising and solving different problems. For example, create contacts between those people with social problems and those who would like to support them, or contacts between a disabled person and an employer offering an appropriate job. In another case a website or other on-line tools enable to promote tourism, develop public transportation, increase Local Government transparency and accountability.
Some of the project proposals were suggesting traditional methods for problem-solving: awareness raising on the reforms and the gaps in the field through classes, discussions, interactive theatre performance, photos, and exhibitions.
"For a 'sleeping' person, the "Mardamej" is a signal to wake up, think, present ideas, create teams and reach a result through it",- Tigran Bashinjaghyan, an author of one of the winning projects in Martuni says. Then he adds, that "Mardamej" is an opportunity for a good start, and a good start is the half of good work."
Winning or not, a lot of participants plan to participate in the upcoming "Mardamej" events with new and exiting ideas, taking into the knowledge and experienced they gained. Each of the participants of Social-Innovation events does take something with him (her) after the meeting, be it a new idea, a new contact or a new T-shirt.
[foogallery id="4608″]