January 31, 2003
Posted by:

admin

Category:

News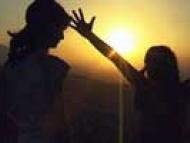 At the end of January, Internews finished the production of a series of public service announcements, in the framework of the UNICEF project "People Planet."
All the 8 pieces are produced with the participation of children and teenagers. Each of the 2-minute pieces is based on quotations of celebrated world humanists of various epochs, cultures and nations – Federico Fellini, William Saroyan, Morihei Ueshiba, Hrant Matevosyan, Antoine de Saint-Exupery, Victor Hugo, Richard Bach, and Hafiz. They advocate the idea of love and tolerance to all – people, nature, the planet, and the universe.
Although the pieces target the very youngest of the audience, David Matevosyan, the director and producer of the show, hopes "People Planet" will remind the viewers who they are and what they lose when they grow up and move away from their childhood. Small works of art or excerpts are read by children and introduced in the form of brief, bright and colorful video stories, involving disabled teenagers, actors from the theatre of children with impaired hearing, kids of various ethnic groups and races.
Educating is another aim of the project. The daily contacts with the little pearls of the world culture will evoke a further desire to experience the diversity of the world.