March 1, 2011
Posted by:

admin

Category:

News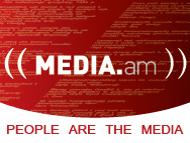 Which are the qualitative features and problems of our media sector, is there any progress, what is good and what is bad in the work of media, in what stage of development are television, radio, print press, online and new media, how do journalists work, what is the quality of university education: authors of the redeveloped Media.am website attempt to find answers to these and many other questions.
Being active in the media sector of Armenia since 2001, Media.am's external appearance has changed a few times, new sections were added and old ones were removed. However, the website has remained a resource on journalists and for journalists. The purpose of the last redevelopment was to present media analytics by allowing both journalists, and ordinary people to express themselves.
Thus, in the Critique section media experts kick-start active conversations on trends and developments in the media in Armenia and in the world. The Vox Populi is the place for ordinary citizens/media consumers, who discuss and critique the media. Readers discuss the articles in the website and in Facebook and Twitter.
Media.am presents news and main events in the field, interviews with local and international media professionals and policy makers, useful resources for journalists and students, announcements on trainings, competitions and vacancies.
The Geeks radio project is noteworthy. On a weekly basis it describes developments in social media and blogs, new web projects for journalists and people working and spending time online, or geeks.