April 29, 2006
Posted by:

admin

Category:

News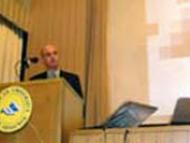 The lecture was organized on April 29 by the Internews and the Law Department of the American University of Armenia. Conducted by David Sandoukhchyan, Head of the Legal Service of the Internews, the lecture covered issues related to the impact of the current media legislation on freedom of speech in Armenia. The goal of the lecture was to raise media awareness on the level of legal protection of journalists in Armenia.
Mr. Sandoukchyan spoke on issues of proper regulation of Mass Media activities and law enforcement, ensuring independence of TV and radio companies; legislative guarantees of the Mass Media's independence from state authorities; imperfect legislation ensuring protection of media professionals and inadequate application of current legislation. As stated by Mr. Sandoulhchyan, "The main problem with the protection of journalists' rights is the lack of enforcement of the legislation protecting the media professionals.
Despite a number of violent acts against journalists that took place during the last three years, the relevant article of the Criminal Code was applied by the Armenian courts only once. None of the cases of violence against journalists by the police was disclosed and no any police of law enforcement authority was panelized for that." The event was attended by students, representatives of local and international NGOs and Mass Media.