August 3, 2011
Posted by:

admin

Category:

News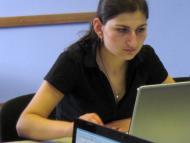 Addressing challenges of the new convergent environment, Aravot daily set a strategic objective – to present its website in a multimedia format. The newspaper journalists needed specific knowledge and skills on working with new media tools and new approaches to working online.
The transformation process corresponded with Internews' announcement on the Summer School on Multimedia Journalism. During July 11-30, Lusine Khachatryan, Aravot's young journalist, participated in the Summer School. It was held within the framework of Internews' Alternative Resources in Media program. During three weeks journalists representing nine media outlets learned multimedia principles of news production, genres and formats of multimedia journalism, tasks of the multimedia newsroom, writing for the Internet, basics of photo, audio and video production, and ethical issues, presented by local, Russian and European experts.
Each of the trainees developed a number of reports using various multimedia tools – slide shows, videos, infographics, timelines, polls and maps based on real life topics. As a final assignment the participants divided into two groups and, worked in a real newsroom format and produced multimedia news projects.
"Before the Summer School I hardly knew anything about multimedia, since it is rarely used in Armenia. Now I clearly know which story is to be presented through video, which one through audio, and which story through photo. As a result of the Summer School I became a universal journalist: I myself shoot my story, myself carry out editing and publish it on our website," Lusine says.
Lusine is one of the forerunners of multimedia ideas in the Aravot editorial office. She is enthusiastic about the establishment of the new online version of the newspaper. Lusine not only produces multimedia reports, but also promotes them through various platforms.