June 11, 2015
Posted by:

admin

Category:

News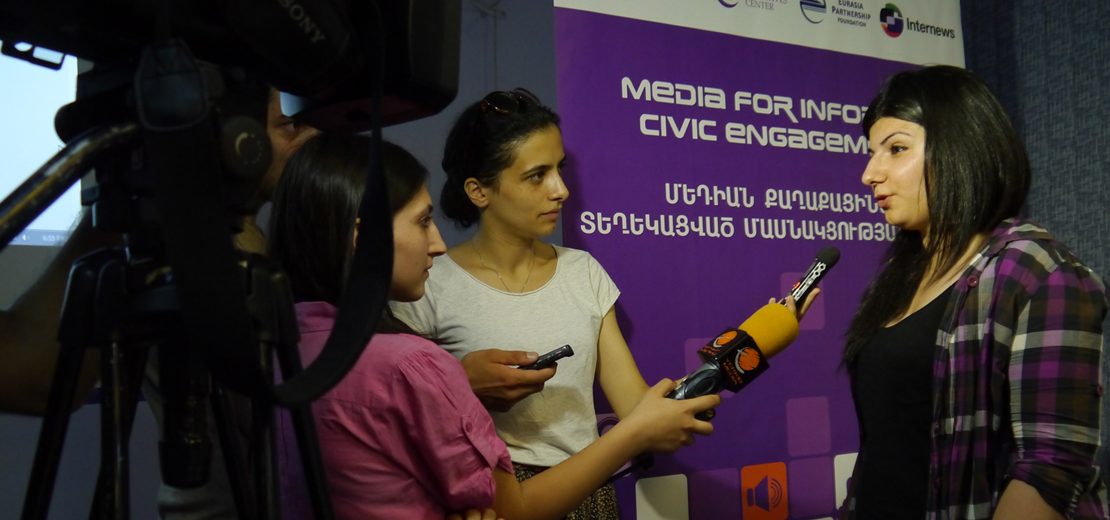 "I love my profession and I believe that you should do something great or not at all. I try to do [it] as well as possible — helping me in this are both my professors and my editors," says Syune Sevada, who is a student of the Faculty of Journalism at Yerevan State University (YSU). Her story won first place in the I Am the Media student contest.
The student contest organized by the Media Initiatives Center aims to give students the opportunity to think about the surrounding media, its impact and role; to present personal stories of how media has helped or, the opposite, misled them; and to voice how they would like to see journalism and news outlets.
Of the 14 applications received, four won — first place went to Sevada; second place to Azatuhi Khachatryan; and third place was shared by Amali Khachatryan and Lilit Hovhannisyan. Receiving an Honor of Distinction was YSU Faculty of Physics student Rubina Davtyan, who focused on the issues of science journalism.
Third place winner Lilit Hovhannisyan, who submitted the only video to the contest, reflected on media manipulation and the case of interpreting reality in different ways.
In recent years, MIC has been actively engaged in spreading media literacy in Armenia, collaborating with schools, universities, state agencies, and NGOs. The I Am the Media contest was another step to start a discussion among young people on the topic of media and information. MIC's media literacy projects are part of the Media for Informed Civic Engagement program, which is funded by USAID.
Financial support for the contest was provided by Orange Armenia and Ucom. The event was supported also by BarCamp Yerevan.
Throughout the month of July, I Am the Media contest winners' work will be published in the Vox Populi section of Media.am.
[foogallery id="4521″]