December 13, 2002
Posted by:

admin

Category:

News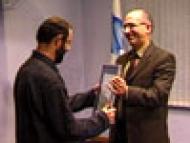 At the beginning of the year Internews had announced a competition of television stories and programs of investigative journalism, aiming at honoring journalists around Armenia who had produced high-quality investigative films, programs and reports.
13 pieces of two categories were introduced to the competition. 8 of them belonged to the category of TV programs and television films, and 5 of them to the category of reports.
The selection panel consisted of competent professionals who were most independent with regard to the above-mentioned competition and represented the sphere of journalism and television.
The authors of the following three works were selected to be award-winners:
TV programs, 1st prize – "Trace", film 2, Edik Baghdasaryan,
Association of Investigative Journalists
TV programs, 2nd prize – "Ostap Bender from Gyumri", Edward Mkhitaryan,
"Noyemi" studio, Gyumri
TV report, 2nd prize – "White Hospital", Vagharshak Nakhshkaryan,
"Tsayg" TV Company, Gyumri
It was decided not to grant the first prize in the category of TV reports since none of the pieces gained the majority of the votes of the panel members.
The TV companies that had first broadcast the award-winning stories got incentive prizes. Also, it was decided to grant incentive prizes to Hermine Baghdasaryan and Hrachya Papinyan, since their reports – "What's Actually Happening in Bagratashen" and "Global Warming" – were marked almost by all the members of the selection panel, falling just a little behind the winning report. An incentive prize was granted to Alina Ordyan since her program – "The Hrazdan Gorge" – had scored a big number of votes of the selection panel.
The award ceremony took place on December 12, hosting representatives of journalism organizations, international organizations and NGOs. As one of the members of the selection panel stated, "Investigative journalism is about revealing the hidden facts and having passion and consistence enough to "dig" the story to the end." The experts recommended the award-winners and participants to be more courageous in their further work, and "smell and hunt for" better stories.