November 22, 2011
Posted by:

admin

Category:

News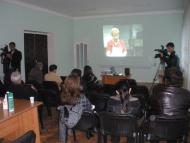 "If a Karabaghi young man could work jointly with an Azerbaijani, the destroyed bridges will be possible to rebuild", said a resident of Vanadzor after viewing films produced within the framework of the Dialogue Through Film project.
The documentaries reflect the hope and concerns, sorrow and humor of the generation, which bears the consequences of the Karabagh war. However, they didn't give up and hope that one day there will be peace. Some of the 21 films were produced by Karabaghi young Armenians, others by young Azerbaijanis. There are also jointly produced films.
During more than a year, in 23 towns of Armenia, Internews organized screenings of mentioned films among 700 citizens of various ages, occupation and knowledge on the Karabagh conflict. The screenings aimed at promoting discussions on ways of the conflict resolution and peace process. The discussions evolved not only on specific stories presented in the films, but also on peace and war, aggression and tolerance, self-descriptions and stereotypes, reconciliation and perspectives of living side-by-side.
As stated by one of the residents of Artashat, "Till recently we didn't think of our common taste, common cultural values, cuisine and music, which can be considered own both by ourselves, and by themselves. Perhaps it is possible to find platforms for communication."