February 26, 2016
Posted by:

admin

Category:

News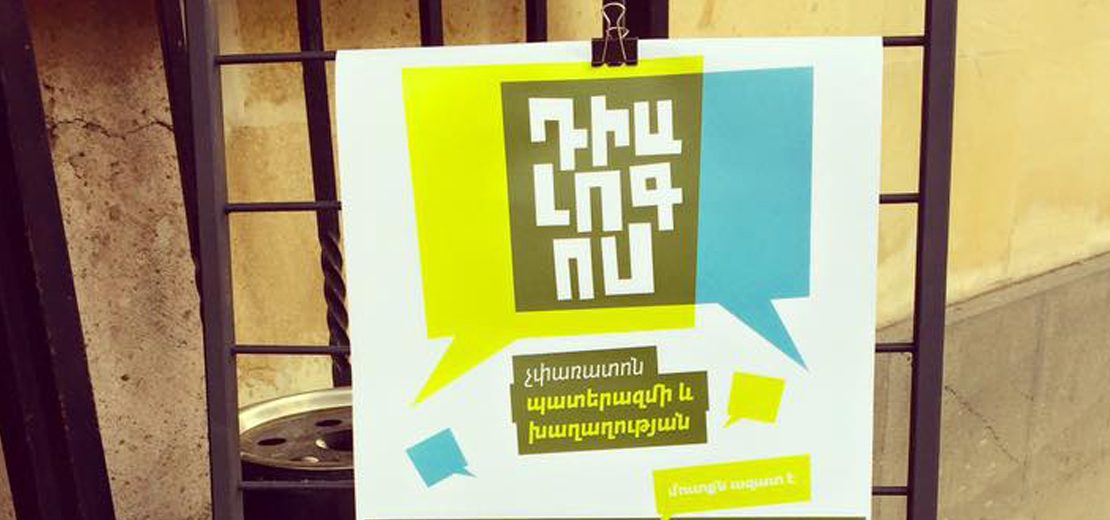 On February 22-25, the first time in Armenia, a "Dialogos" War and Peace Unfestival was held. This kind of forum was the first attempt to present the past and present, problems, hopes, losses and achievements of the conflicting parties in the language of the film.
This Unfestival was not a fest, but an interactive area for experiments and search for solutions and opportunities. The selected films did not compete, no prizes were awarded, and the audience was the jury.
The films presented in "Dialogos" are of a different format, duration, and genres, and may sometimes not match festival requirements. Those are often experimental, and not always prepared by professionals. These films are created with a focus on pain and anxiety and the destiny of people who have found themselves on the verge of life and death.
This year the Unfestival was a platform for Georgian, Armenian and Armenian-Azerbaijani joint  18 documentary and four animation films about Karabagh and Georgia-Ossetia conflicts, which have been created throughout the last decade. In some cases, the audience also had an opportunity to meet the authors, directors, and heroes of the films and discuss the screened films with them.
Also, there was a film premiere within the framework of "Dialogos." On February 25, within the scope of "Dialogos" Unfestival, first time the film by a Georgian documentary film-maker Toma Chagelishvili "I Didn't Cross the Border, The Border Crossed Me" was screened in Mosco Cinema.
It illustrates the consequences of the Russian-Georgian war of 2008. The hero of the film is a typical Georgian family, whose house appeared to be in the conflict zone and one day becomes cut through barbed wire. At the end of the screening, the audience had an opportunity to meet with Toma Chagelishvili.
Translated from ancient Greek, "Dialogos" means a combination of conversation and wisdom, searching for truth and solutions, endless action, a means for contact and communication.
The "Dialogos" Unfestival was organized in Moscow Cinema by Media Initiatives Center, due to the support of the Embassy of Great Britain in Armenia.
Further information about the Unfestival is available on the "Dialogos" Facebook page.