December 19, 2011
Posted by:

admin

Category:

News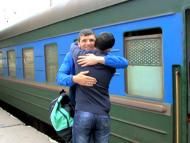 Arthur Khachatryan was 11, when his family moved from Armenia to Russia. There, in the southern Usinsk town he met Azerbaijani Zeynal Zeynalov. They were in the same class in school and very soon became friends. "Sports linked us: both of us were great funs of basketball. In the Russian reality we had much in common – customs, views," Arthur says.
After finishing school, each of the friends decided to enter his national University. Currently Arthur is a 4th year student of Journalism Department of Russian-Armenian Slavonic University, and Zeynal of Economics Department of Baku University. They maintain relations via Internet.
"When I saw Internews' announcement on the competition for film production, I immediately decided to participate in order to bring into life my age-old idea – produce a film about two friends," Arthur says. Within the framework of Internews' Alternative View project, together with the film co-author Durna Safarli from Azerbaijan, Arthur produced the "Buddy, friend… buddy" documentary on himself and Zeynal.
Arthur and Durna together discussed the script and carried out shooting. The joint work was rather successful. "Durna is a professional journalist and a very open and interesting personality," Arthur says. As a result, their film was announced the best in the festival, held on 13 December within the framework of the mentioned project.
Arthur wanted to find out whether their warm feelings remained notwithstanding the advocacy in the two countries. As stated by Arthur, "It appeared, if not friendship, the communication between Armenians and Azerbaijanis is definitely possible. The film worked from the perspective of the alternative view, since it presents another vision of human relations."