June 16, 2021
Posted by:

admin

Category:

Opportunities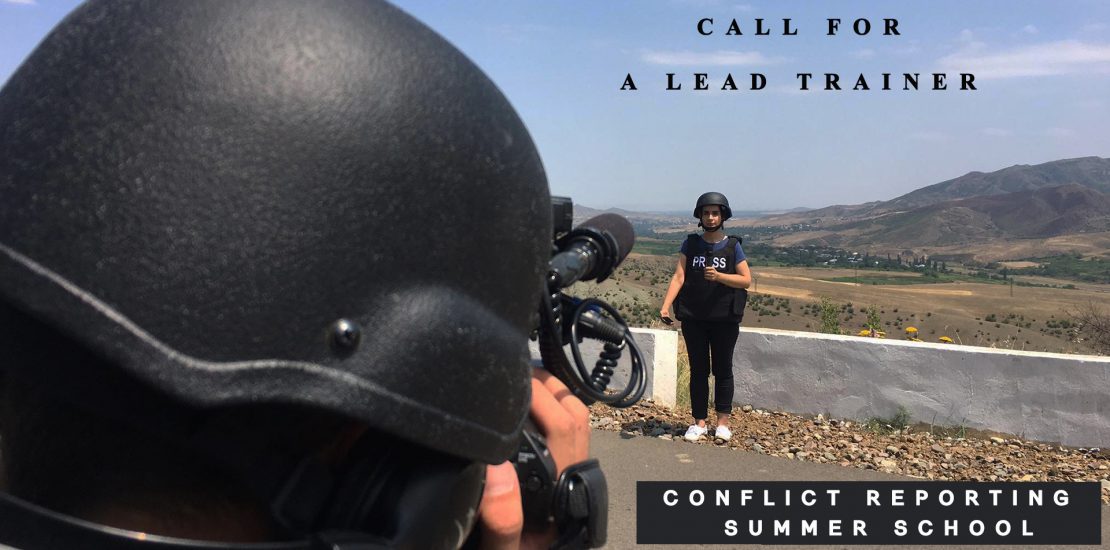 Media Initiatives Centre (MIC) is seeking a trainer to conduct a Conflict Reporting Summer School for the Armenian journalists. The goal of the School is to improve the quality of reporting and to equip the participants with innovative skills in producing content on conflict and war coverage.
The selected candidate/s will be supported by a team of local trainers and guest speakers. The course content will be developed by the selected trainer/s in close cooperation with the MIC team. The course is expected to be a combination of practice and theory.
Two sessions of the Conflict Reporting Summer School will be organized in July and in August 2021. Interested candidates can apply for one or both sessions. The working languages are: Armenian, English or Russian (simultaneous interpretation will be provided).
Duties and responsibilities:
● To design and develop the curriculum of the training jointly with the MIC team;
● Conduct the training sessions (both theoretical and practical components), mentor the assignments of the participants;
● To prepare presentation(s), handouts, assignments, and audio and video reports from the foreign media to be used as training materials;
● To support in refining story pitches (outputs of the Media School) from the participants;
● To provide an evaluation report at the end of the School.
Requirements:
● Minimum 5 years of experience in the field of journalism and conflict reporting.
● Proven experience in journalism training and mentoring.
● Good working knowledge of one of the following languages: English, Russian, or Armenian.
● Awareness of the political and economic situation in the region is a plus.
● Knowledge of innovative multimedia tools of storytelling is a plus.
The selection of the international experts/trainers will be done on the basis of competition.
The interested candidates are requested to send their CV and a brief motivation letter (maximum 200 words) to Harutyun Tsatryan by the email htsatryan@mediainitiatives.am. The deadline for submission is July 18, 2021.
In case of additional questions, please, write to htsatryan@mediainitiatives.am or call +3749393474 (WhatsApp/Telegram).
---
Who we are
Media Initiatives Center is an Armenian non-governmental organization, which contributes to the development and dissemination of free, independent and pluralistic information through creative and innovative approaches, and assists in the establishment of democratic values, diversified and harmonious development of the society. MIC has 25 years of experience in the media sector.