August 16, 2011
Posted by:

admin

Category:

News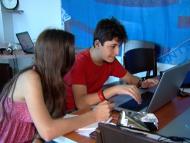 During the past years 16-year-old Hayk Smbatyan regularly viewed the Menk Enk (we are) TV program and was impatiently waiting for his turn. This year, as a result of Internews' competition, Hayk was selected as a Kids' Crossroads project participant, together with 15 other adolescents.
"I never met Azerbaijanis, but I am sure they don't differ from us and we'll make good friends within the framework of the project," Hayk says. He believes that neighboring nations should know each other well, and the project will enable the participants to learn much about young people of South Caucasus and tell about them to the viewers.
From 23 July to 12 August, together with his Armenian, Georgian and Azerbaijani peers, Hayk participated in the Kids' Crossroads Summer Camp, which was held in Batumi. The adolescents learned basics of television production using multimedia tools and working in various platforms. Conflict journalism was in the focus, with such topics, as impartial and balanced reporting, tolerance, respect for diversity, team building.
During the summer camp, together with his Azerbaijani peer, Hayk produced the first serious report in his life. Together they went through the long process of searching the topic, interviewing the hero, shooting and editing. As a result, the report was highly praised by experts.
"The TV production, joint games and competitions made us understand and respect each other. My most important achievement is the pure friendship I established with my peers in the neighboring countries. That was a great overturn in my life," Hayk says.